com.io7m.jwhere
The jwhere package is a disk cataloguing application heavily inspired by GWhere.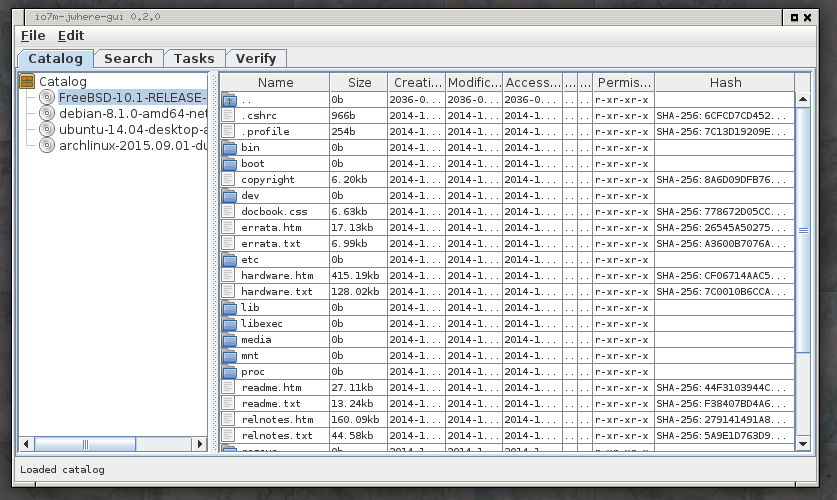 Features
Catalogs disks, storing owner/group/file size/permissions/access time/modification time/creation time/SHA-256 hash.
Verifies catalogs against mounted disks to detect any data corruption or disk issues.
Imports GWhere catalogs.
Well-tested core API with extensive unit tests.
Command-line frontend for non-interactive use.
Swing-based frontend for a friendly user interface.
ISC license.
Releases
The current release is 0.6.0.
Source code and binaries are available from the repository.
Documentation
Documentation for the 0.6.0 release is available for reading online.
Documentation for current and older releases is archived in the repository.
User documentation
JavaDoc
Changes
Subscribe to the releases atom feed.
| | |
| --- | --- |
| 2019-03-16 | Release: com.io7m.jwhere 0.6.0 |
| 2015-12-24 | Release: com.io7m.jwhere 0.5.1 |
| 2015-12-24 | Change: Fix broken (and missing) remove command. |
| 2015-12-24 | Release: com.io7m.jwhere 0.5.0 |
| 2015-12-24 | Change: Add the ability to remove disks from a catalog to the command line interface. |
| 2015-11-24 | Release: com.io7m.jwhere 0.4.0 |
| 2015-11-24 | Change: Use exit codes in command-line frontend. (tickets: 6 ) |
| 2015-10-04 | Release: com.io7m.jwhere 0.1.0 |
| 2015-10-04 | Change: Initial release. |
License
Copyright ⓒ 2018 Mark Raynsford <code@io7m.com> http://io7m.com

Permission to use, copy, modify, and/or distribute this software for
any purpose with or without fee is hereby granted, provided that the
above copyright notice and this permission notice appear in all copies.

THE SOFTWARE IS PROVIDED "AS IS" AND THE AUTHOR DISCLAIMS ALL
WARRANTIES WITH REGARD TO THIS SOFTWARE INCLUDING ALL IMPLIED
WARRANTIES OF MERCHANTABILITY AND FITNESS. IN NO EVENT SHALL THE AUTHOR
BE LIABLE FOR ANY SPECIAL, DIRECT, INDIRECT, OR CONSEQUENTIAL DAMAGES
OR ANY DAMAGES WHATSOEVER RESULTING FROM LOSS OF USE, DATA OR PROFITS,
WHETHER IN AN ACTION OF CONTRACT, NEGLIGENCE OR OTHER TORTIOUS ACTION,
ARISING OUT OF OR IN CONNECTION WITH THE USE OR PERFORMANCE OF THIS
SOFTWARE.